ZANKER MUSIC ARTS THERAPY
Call "James" For FREE PsychoTherapy Consult: (910)791-4478
JAMES AUGUST ZANKER HAS SEVERAL LICENSES/CERTIFICATES/TRAININGS/LIFE EXPERIENCES that will aid you: 
-Licensed Profesional Counselor (LPC) 
-Licensed Clinical Addiction Specialist  (LCAS) 
-Nationally Certified Counselor  (NCC) 
-(many more)
Extra-Long, Productive Sessions To Help You The Most Possible 
Hours For You OFFERED AFTER WORKDAYS AND ON WEEKENDS, So That You Can Receive Counseling and Do Not Have To Take Off Work 
Crisis Support is included while you are under my care, if needed 
Convenient "Cotton Exchange" Location in Historic Downtown Wilmington, NC with FREE PARKING,  Located Just Off Of, and In View Of, The Scenic Cape Fear River, and RiverWalk Boardwalk 
Zanker Counseling Services, "TREATS THE ENTIRE PERSON"….GET TO LIVING LIFE AGAIN, REDISCOVER YOUR ZEST FOR LIFE, LEARN YOUR UNDISCOVERED TALENTS, TAP INTO YOUR CREATIVE SIDE WITH Zanker Music Arts Therapy…. 
HOSPITALS AND TREATMENT CENTERS MAY SEND REFERRALS TO ZCS FAX #:  (1-888)790-8208
WHAT ZANKER COUNSELING SERVICES (ZCS), and ZANKER MUSIC ARTS THERAPY (ZMT), CAN DO FOR YOU:
Hello Friend:  My name is James August Zanker.   I am a:
–Licensed Professional Counselor (LPC),  Mental Health
–Nationally Certified Counselor (NCC),
–Licensed Clinical Addiction Specialist (LCAS) All Substance Abuse and Alcohol Related Problems Treated.  This includes help with Gambling, Stealing, Binge Eating, All Eating Disorders,  and more.
–Certified Sexual Offender Treatment Specialist (CSOTS)
I can help you: Gain Meaning and Purpose through Life's Strivings and Challenges. With my Bachelor Of Arts in Psychology from the University Of North Carolina In Wilmington, (UNCW), Masters Of Arts in Service Agency Counseling from the University Of North Carolina In Pembroke, (UNCP), and years of Life and Counseling Experience, you will be in Excellent Confidential Care, as we apply proven Psychological Concepts to your life. I am here to help ALL AGES, or Gender, with Mental Health, Substance Abuse, Addiction Therapy, Job Coaching, Life Coaching, Motivational Speaking, Resolutions Expertise with DSS; Child Protective Services; Probation And Parole; Drug Court; Juvenile Detention; School Suspension; DUI and DWI Issues;  Divorce Court;  Employment Problems Handled Through Your Employee Assistance Program; Finding Work and A Career, and more!  With Expert Guidance you can find it possible to, "Turn Over A New Leaf", you might not have thought possible.   
We tend to hold onto problems too long as a result of it being uncomfortable for us to disclose our innermost thoughts. Our tensions and problems compound as a result. With your new Regaining Of Perspective in the Trusting Environment that I provide, you will be helped immensely. I utilize many different techniques and Psychological Theories, and enjoy assisting others to gain a better Sense-Of-Self and Control, so that Strength can be derived from Adversity, and fears can be turned into Positive Energy.  Being Artistic, I am able to apply just what is needed for you, to get you to the next Therapeutic Level in your life, regardless of your age, or lot in life.  I have an Introspective Nature and Keen Understanding of the Human Spirit.  ZANKER MUSIC ARTS THERAPY (ZMT), IS OFTEN JUST WHAT IS NEEDED, FOR CREATIVE INDIVIDUALS, LOOKING FOR ALTERNATIVE STYLES AND METHODS OF THERAPY.
Life is difficult, but by Gaining Perspective through my Proven Forms Of Licensed Professional Counseling, Healing Will Occur In Your Life.  You can Begin To Flourish. YOU CAN Make Your Own Possibilities, With Help From ZANKER COUNSELING SERVICES and ZANKER MUSIC ARTS THERAPY. I Assist Many To Gain Footholds, Make Plans, And Progress Onward To A Better Future.  THIS CAN BE A NEW REALITY FOR YOU TOO!  Determine Your Positive Traits In Your Life.  Discover Your Inner Talents and Gifts.  Find A Deeper Purpose That Satisfies Yourself, Makes TheWorld A Better Place, And Assists You In A State Of Gratified Peace, And In A More Fully Functioning Manner. Live Your Life Fully Again, Like It Was Meant To Be!
Thank You.  Sincerely;
-James August Zanker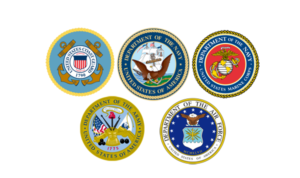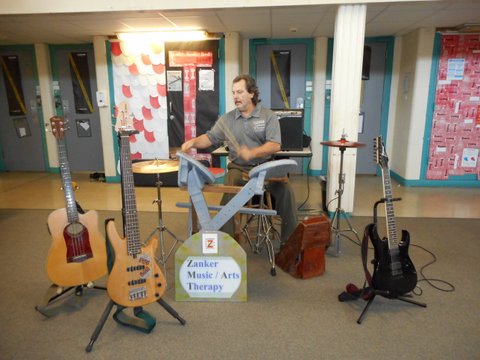 StarNews
JAMES AUGUST ZANKER
Wednesday, February 17, 2016
Counselor Reaches Troubled Youth With Music:
By Si Cantwell
Star News Staff
James Zanker has a passion for counseling and music that has led him to volunteer his services at the New Hanover County Juvenile Detention Center.   Zanker spends time with adolescents there and elsewhere, helping them gain confidence, while encouraging them to experience enjoyment through music.  It can be difficult to gain the trust of the children he works with, but Zanker remains dedicated.  It's something he has always wanted to do.  Zanker is flexible, accommodating his client's needs when a traditional counseling setting will not work. "One kid didn't want to enter my office, so we had a counseling session while walking on the Riverfront, " he said.  He has an office in the Cotton Exchange Executive Suites on Front Street.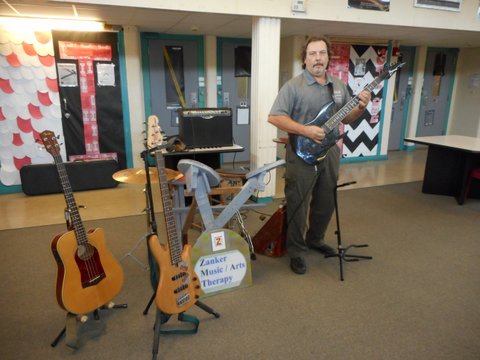 Zanker credits his ability to work with troubled adolescents to his own early work experiences, such as clamming on the Jersey Shore, working a paper route and mowing lawns.  He also had the influence of a musical family who inspired him to explore his own musical talents.  As a kid, he used scrap wood, pieces of rubber and carpet to make a drumset, a fact he now used as a motivational tool.  When the adolescent he works with complain that they cannot afford a musical instrument, Zanker shows them the round circles of rubber and carpet that he uses to play a tune.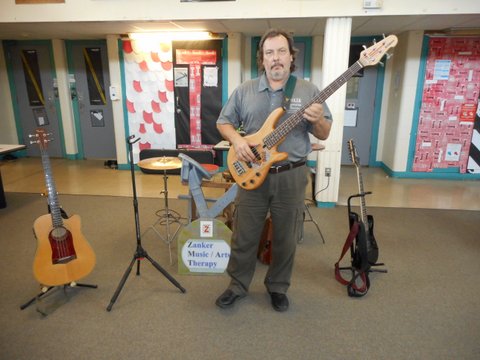 While he recognizes that he won't reach all of the kids he works with, he knows that what he says "goes into their heads."  He says that for him as an adolescent, it was "just hearing one sentence from an adult that changed me".  Zanker is encouraged when the kids ask if he is coming back to work with them again.  He has also worked with Communities In Schools and hopes to do more work with that non-profit group in the future.  He has also played Outreaches in Gospel Rock Groups in the New York City / Tri-State Area, that travelled to different Juvenile Detention Centers and Churches, providing Motivational Support and Fund Raising for them.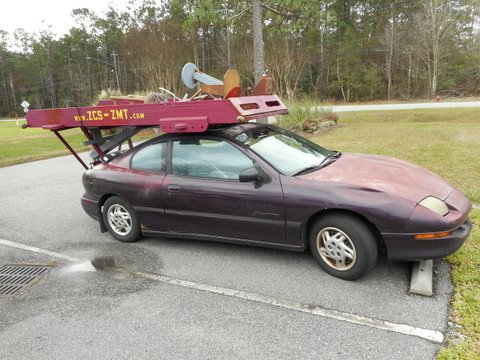 Zanker counsels all individuals with a variety of problems, not just juveniles, and will combine Music-Arts Therapy when appropriate to his regular counseling settings.  He also does Motivational Speaking.  He can be reached at (910)791-4478.  www.zankercounselingservices.com
-Contact the Star News Community News Desk or Community @ Star News Online.com.
UNCW PROFILE:  ALUMNI OF UNCW, JAMES AUGUST ZANKER,
"WE ARE UNCW", ONLINE FEATURE ARTICLE  (www.zcs-zmt.com)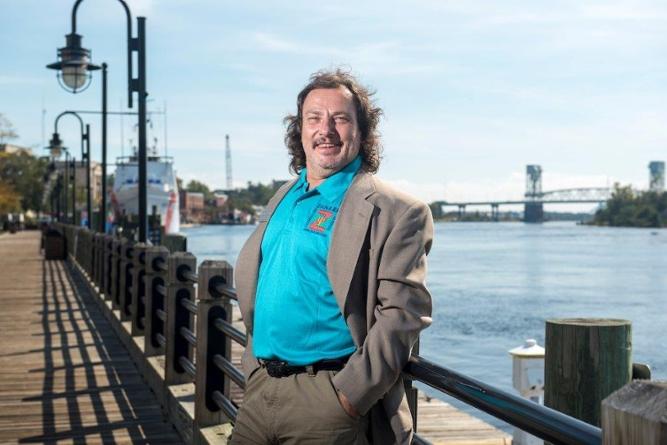 OWNER OF:   ZANKER COUNSELING SERVICES  / ZANKER  MUSIC ARTS THERAPY
MR. JAMES AUGUST ZANKER; AT THE CAPE FEAR RIVER, OUTSIDE HIS OFFICE AT THE HISTORIC "COTTON EXCHANGE" OF DOWNTOWN WILMINGTON,   NORTH CAROLINA 28401
http://uncw.edu/profiles/zanker_james.html
James Zanker's family had some reservations about him studying psychology. "They saw it as a fringe career path – one that was reserved 'for others,'" he said.  He worked and paid for all of his schooling without having to take out any student loans. In addition to earning a bachelor's in psychology from UNCW, he received a Master of Arts Service Agency Counseling Degree from UNC Pembroke and is now the proud owner of Zanker Counseling Services, located in downtown Wilmington, NC.   "I had known for my entire cognizant life that I was talented at subjects related to human services and psychology," he said. "I chose UNCW because of its fine reputation, the fact that is was part of the reputable UNC system and because of UNCW's excellent psychology department."   While at UNCW, he was inducted into Omicron Delta Kappa National Leadership Honor Society and Psi Chi Psychology National Honor Society.  He also served as a Student Ambassador and was a member of the UNCW Crew Team.  A Licensed Professional Counselor (LPC), Nationally Certified Counselor (NCC) and Licensed Clinical Addiction Specialist (LCAS), Zanker loves what he is able to give others through mental health counseling, life coaching or music arts therapy through a related business, Zanker Music Arts Therapy.  "They are all a continual thrill for me and I am working on improving and increasing the level of services that I can provide within each format," he says.  Music and art are just two of Zanker's "hundreds of hobbies." He plays several instruments and "creates all sorts of art." He also enjoys woodworking.  Zanker is grateful he was able to incorporate his passions into his counseling services. He starts each day with a prayer of thanks and strives to maximize his day for others with the abilities he has been given. He first visited the New Hanover County Juvenile Detention Center as part of his practicum at UNCW. He now gives musical performances at the center several times a year and works with the youth there to tap into their natural talents and build careers.  In terms of "free advice" for others, he says, "Crystalize your goals. Write a mission statement for yourself. Work on your weaknesses. Make the most out of your life each day."
— Caroline A. Cropp,   Content and Communications Specialist,  University of North Carolina Wilmington (UNCW)